Action Links
Action links combine two things in one: an action and a link.
The "action" does something.
The "link" aspect points to the action, and can be used in multiple places.
Actions
All actions contain their own settings options, and most also respect global settings for the VSys Live site. For example the Job/opportunity lookup action will not return jobs that are defined as Do not show for lookup on VSys Live, nor those disallowed in the Job signup section of the site's settings.
Links
Action links can be created explicitly and then used in multiple places:
Since VSys Live is creating these menus, generating these pages and assembling the merge templates, for all of these VSys checks the applicability of the action link before including them. That means, for example, that the action link placed on a menu won't actually be displayed if no one is logged into VSys Live, or if the logged-in person doesn't meet the criteria for that action link.
Creating action links
Within a VSys Live site, click on to define them. What you create here combines the action, for example "Job/opportunity lookup", with settings for that action. And there are a lot of settings. Most of them should be intuitive; for the rest, VSys usually comes with a series of built-in action links.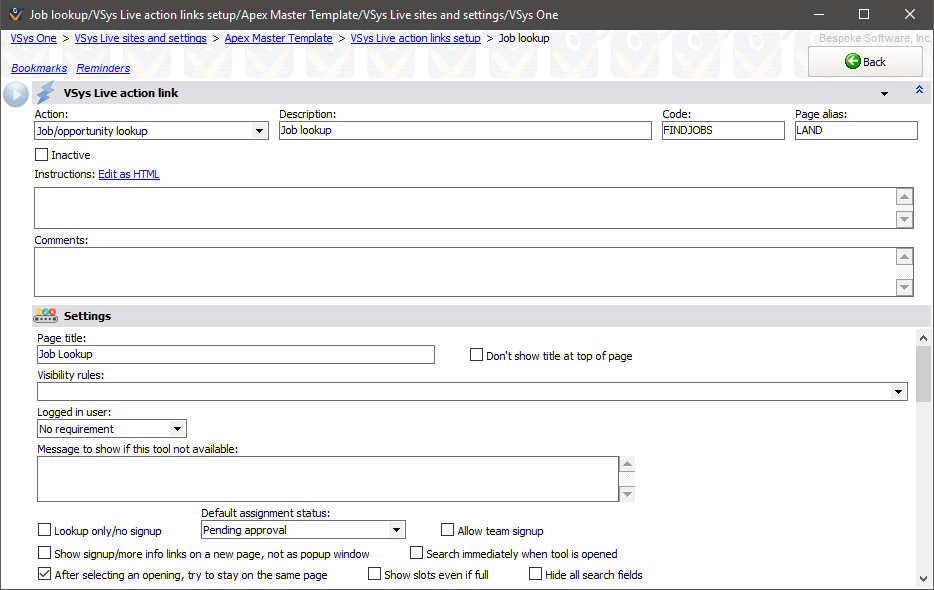 The options available will vary for different tools. The most common options:
| | |
| --- | --- |
| Action | What the tool actually does (see list of action links below) |
| Description | For your own use. |
| Code | For your own use. |
| Page alias | In this case, https://demo.vsyslive.com/pages/LAND would be redirected directly to this tool. Very handy to put "natural" names to tools. |
| Inactive | An inactive tool will not show up on menus or be available to users. |
| Instructions | Any HTML text you put here will be displayed on the placeholder page containing the tool. The specific region will depend on the Region to use for instructions set for that placeholder page. |
| Comments | For your own use. |
| Page title | Shows in the title bar of the page as well as (optionally) directly above the tool itself. |
| Don't show title at top of the page | If this is checked, VSys Live won't put the title directly above the tool itself. |
| Visibility rules | Checking one or more visibility rules here requires that the at least one of them be met for the tool to be available. |
| Logged in user | For tools that could be used by both logged-in and not logged in users, this locks the tool to one or the other of these. |
| Message to show if this tool is not available | If the visibility rules or other rules that define whether or not this page is available to a user are not met, normally the user would get a 404 error. Text in this field replaces that 404 page with your text instead. |
Want to have two (or more) different job lookup tools, each with different rules? Create an action link for each, then use a visibility rule to optionally limit what users have access to which. VSys puts no limit on the number of different instances of any kind of action link. Just use a good naming convention (don't call them all just "Job lookup") so you can tell which one is which.
Some action links which show their data in a table using a datatable style allow you to override that datatable style; doing so uses the Override datatable style or Override datatable style (mobile) instead of the default ones set for the site.