Action Link: Add Team Member, Remove Team Member
For use by volunteers who are "teams", these links allow the team leader to:
Add people to their team. The lookup tool within this requires that the team leader search by the full e-mail address or phone number of the team member. Creating new team members from scratch is not supported.
Remove people from their team. This removal does not delete the team member from VSys, it just removes them from this team.
Adding a team member example
When adding a person to a team, that person must already exist in VSys and not be part of any other team. In addition, the team leader must enter the person's full e-mail address or full phone number to find the person: no lookup by name, DOB or other values is allowed.


Removing a team member example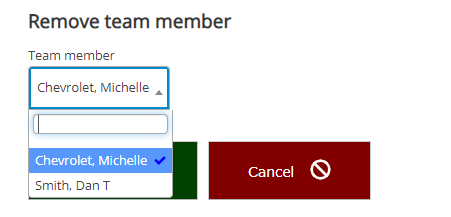 These tools can only be used by team leaders.
Team member management in VSys Live is not part of the standard VSys Live implementation. In general, installing and configuring this option comes with an additional fee. See Advanced features for information.