Downloadable Files
Downloadable files are files that you've put into VSys One that you want to make available to site visitors for download. These can be things like PDF applications, newsletters, media files, or pretty much anything else. You might want to put newsletters, your organization's history or PDF forms that need to be signed and returned. Use the link to add files that can be used by different areas of VSys Live.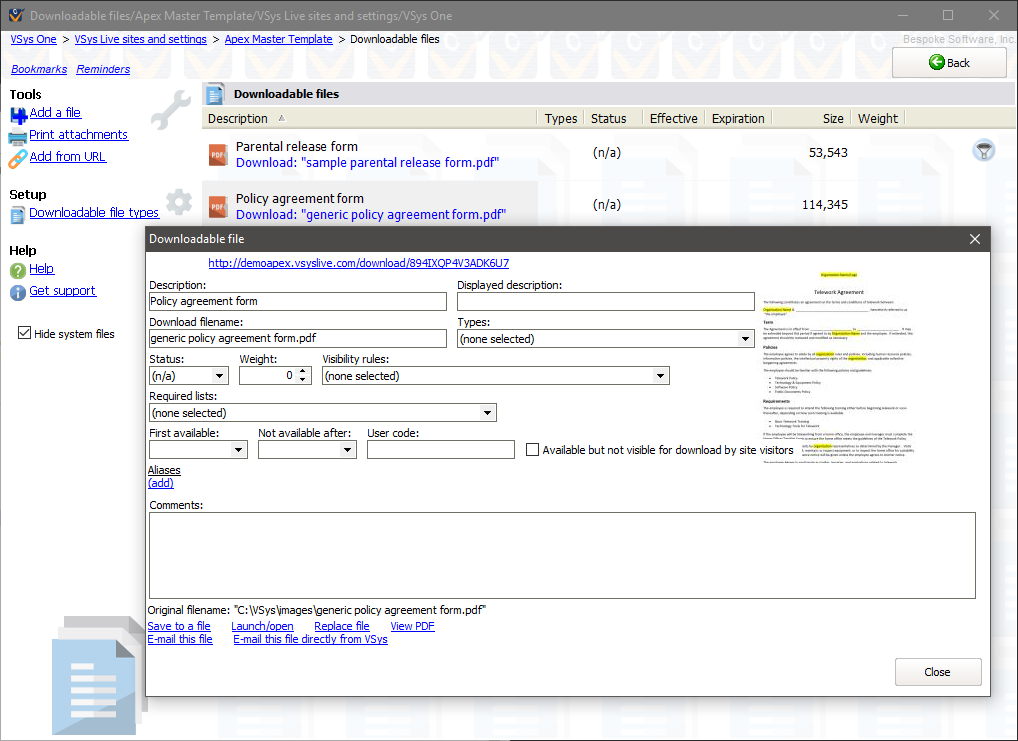 | | |
| --- | --- |
| Displayed description | This is the name displayed on VSys Live for this file. |
| Download filename | When a user downloads this file, the file will have this name rather than its original name. |
| Types | Set these to be able to filter the file by type. Downloadable file types themselves can have visibility rules and requirements useful for limiting who can see files of those types. |
| Status | For your own usage. |
| Weight | Used for ordering downloadable files in lists online. |
| Effective date, Expiration date | For your own use, not used by VSys Live. |
| Visibility rules | If any visibility rules are set, at least one of them must match the current circumstances for this file to be visible. |
| Required lists | Only people on one or more of these lists can see this file. Note that setting list requirements precludes anyone not logged in from seeing the file. |
| First available, Last available | When set, VSys Live won't offer this file outside of this date range. |
| User code | If you set a user code here, VSys Live will make the file available as /download/yourcodehere. |
| Available but not visible for download... | Built-in "asset" files get this tag. If this field is checked, VSys Live won't show this file on lists of downloadable files, but the file is still available if you know the filename. |
| Aliases | Any aliases set here allow the file to be accessed using a name that you designate. For example the alias "agreement.pdf" would make this file available as /download/agreement.pdf. |
| Groupings | |
Adding files here doesn't immediately make them available on your VSys Live site: you'll need to put a "downloadable files" listing view somewhere (or more than one somewheres) on your site, and that listing must be configured to know which files it should show to the site's visitors.
Want to make a VSys Live downloadable file available without a listing view? Clicking on the hyperlink in the upper-left corner copies a URL to the Windows clipboard that can be used to reference this file. Paste that URL into an e-mail, a VSys Live news item or anyplace else. As long as VSys Live is running at the URL you set for the VSys Live site, the link can be used to download this file without actually going to your VSys Live site and searching for it.
When adding a file here it's important that the Download filename property be what you'd want the file to be named when it's downloaded by a site visitor. The visitor will get this filename as the default filename. If the file extension is not correct (in this case ".pdf") then the visitor's web browser may not know what to do with the file.
"File required by..."? Those are downloadable files which come from the currently-selected CSS and JavaScript option. VSys Live will automatically make assets from those options into downloadable files here. (If you delete a required file here, VSys Live will re-create it again within a few minutes.)