Images
Before an image can be used on a site, it first needs to be created in VSys Live. Images can be global (created outside of a site and usable on all sites) or specific to an individual site. Set up images by clicking on the link for a site (this makes images valid only on this site) from the VSys Live sites and settings tool (images available in all sites). The images you create here can be dropped directly into regions on any page and can also be used in custom HTML blocks. Changing an image here changes it every place the image is used.
Create an image by right-clicking on the list of images, or simply drag an image from Windows into this tool.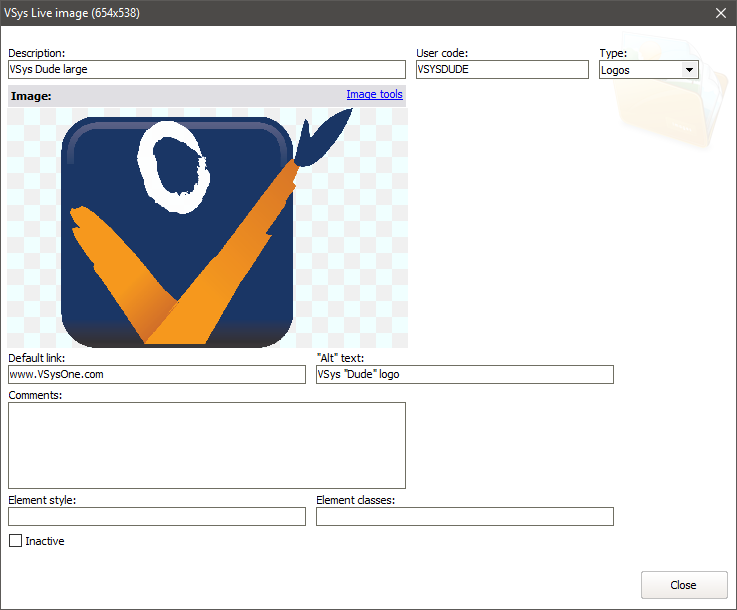 Description

For your own use; not displayed on any VSys Live site.

User code

For commonly used images, putting your own code here, e.g. "VSYSDUDE", makes the image /images/VSYSDUDE instead of some complex code.

Type

If you've defined VSys Live image types, this lets you group images of similar types together.

Default link

When VSys Live uses this image, if you don't put your own hyperlink around it, clicking on this image in a browser will launch this URL.

"Alt" text

For accessibility purposes, you should always define an "Alt" value for your images. This allows site visitors who are unable to view the image or who are using a screen reader to understand what the image represents.

Element style, Element classes

These are for advanced HTML users. Whenever you place an image on a page, or in a block, VSys Live includes attributes like
voxistyle="CEK2C4SCSHR7ZEGY" voxiclass="CEK2C4SCSHR7ZEGY".

If these attributes are left in the HTML, when VSys Live actually generates the page, it will replace them with the values here. For example,
voxistyle="CEK2C4SCSHR7ZEGY"

would be replaced by style="whatever" if we put "whatever" in as the Element style for the image.

Why not just include those attributes when you add them to the page? If VSys did that, then if you changed the Element style or Element classes values for an image later on, you'd have to go back and change all of the pages that used that image, too!