Recurring Assignments Reports
Recurring assignment reports detail recurring assignment rules. These are distinct from the assignments generated by those rules. For example, a volunteer who works Mondays and Wednesdays every week from 9am-3pm during the year will have 104 detail assignments (two for every week, one each week on Monday, one each week on Wednesday), but a single recurring assignment which contains the rules for those assignments. Use this report to:
Print a list of recurring assignments about to end
See the schedule of volunteers in the gift shop in a more general way rather than listing every detailed assignment.
These are just custom reports with a simpler interface. For more powerful filters you can load these under custom reports; for a simpler design you can make a custom column report.
Steps in this task
From the

VSys One home

screen, go to the

Reports

panel and click on the link under

Assignments

.

If the

Select saved report

window opens, choose the saved or built-in report you would like to use and click Select. Or click on the link under to bring up a list of options.
On the

Settings

panel, select the

Type of report

.
Under
, set your filters for the recurring assignments along with the volunteers who have those assignments.
On the left navigation bar, choose any link to add a sort. The / links add a page break when this field changes. Toggle the up and down arrows to change the direction of the sort.
for your report. Click the
Set your
.
Click on the Print button.
Sample Recurring Assignments Report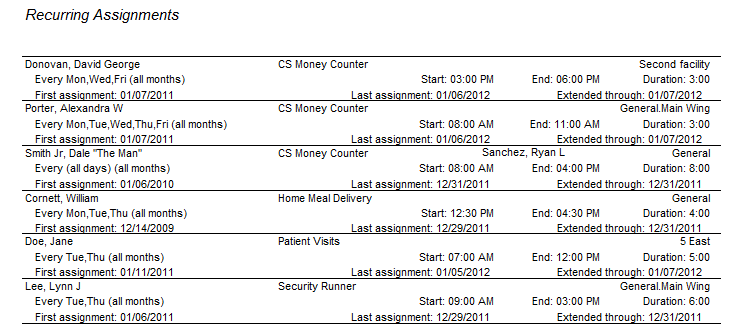 Sample Recurring Assignments Report: Recurring Assignments Ending