Membership Reports
Membership reports show the basic information about each membership which meets your criteria. Use this report to:
Get a list of current memberships of specific kinds
Find expiring members
List associate members.
These reports are only available if memberships are enabled.
Steps in this task
From the

VSys One home

screen, go to the

Reports

panel and click on .

If the

Select saved report

window opens, choose the saved or built-in report you would like to use and click Select. Or click on the link under to bring up a list of options.
On the

Settings

panel, set any membership filters:

Membership types, Membership statuses

, whether to report primary memberships, associate memberships or both.
Then add any filters for membership start or end dates.
Add any filters on the members themselves or with the gender, age, group or type filters. Add any other criteria with the link.
On the left navigation bar under

incomplete addresses

and records without a .
, set your preferred address type(s), as well as to
Choose any link to add a sort. The / links add a page break when this field changes. Toggle the up and down arrows to change the direction of the sort.
for your report. Click the
Set your
.
Click Print to run the report.
Sample Membership Report: By Type


Sample Membership Report: With Associates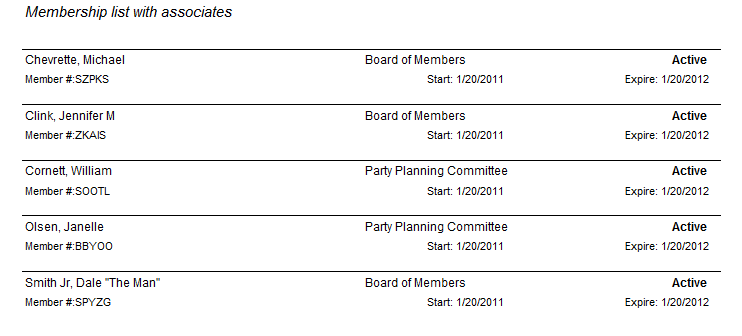 Sample Membership Report: Expiring