Transitions Panel
Transition records are an automatic log of changes to many values associated with a person Transition records are used by the Program Statistics Report to (virtually) roll back people in time to see what they were like in the past, and they can be used for reports and filters.


You can add transitions manually by right-clicking in this list, and you can edit and/or delete existing transitions. Note that making changes manually here affects how certain reports run.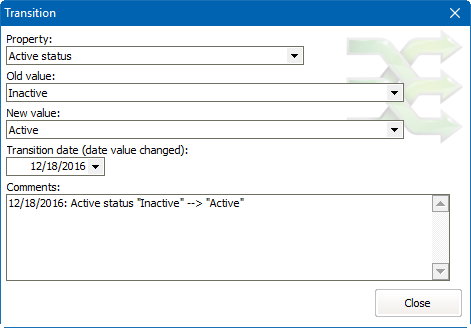 In version 2.1 and higher of VSys One, changes to custom fields are also tracked here. Those changes aren't used as part of any specific reports, but they're tracked here so you can see what's been changed and when.
Two special transitions, "Primary job" and "Primary location" can be added here. These transitions are only entered manually since they are not associated with specific properties in VSys, and they're intended to be used for reporting and analysis.