Standalone E-mail Robot as a Windows Service
The Standalone E-mail Robot can be run as an application or it can be configured for background use to be run without the machine it's running on being logged in.
Note this will most likely require the assistance of your system administrator.
To install as a Windows Service, on the machine in which the Standalone E-mail Robot is to be run as a service,
Configure the

Standalone E-mail Robot

with the same tools in VSys that you use for configuring the E-mail Robot (SMTP) and the SMS Robot.
Place the

Standalone E-mail Robot

in the same folder as VSys.exe and VSys.ini, or have a configured copy of VSys.ini in the folder with VSysOneEmailRobot.exe
The

Standalone E-mail Robot

gets its database configuration settings from the VSys.ini file.
From a command line in the folder which holds the

Standalone E-mail Robot

, type:
VSysOneEmailRobot /INSTALL
This installs the VSys One

Standalone E-mail Robot

as a Windows service. (Uninstall it later if needed with the /UNINSTALL command line option.)
In the Services setup tool for Windows, choose the appropriate startup mechanism service, account, etc. See your system administrator for more information on how to configure Windows services.

Log On
If your database connection is set to use domain authentication, the Standalone E-mail Robot service must start as a user with rights to that SQL Server database. If your SMTP server requires domain authentication then the account used to start the service must also have rights on your SMTP server for relay.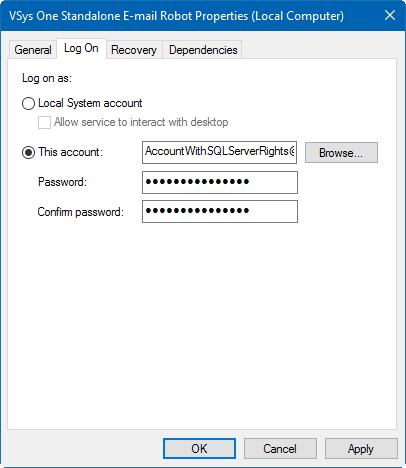 Advanced options
To specify a database connection to be used by a given service, when installing the service, include
/DATABASE:xyz
where xyz is the Connection name or Nickname for that database connection when it was defined.
Why would you have the Standalone E-mail Robot use other than the default database connection when it starts up?
You may have multiple instances of the Standalone E-mail Robot service, with each sending mail for a different database.
If you use SQL Server domain authentication rather than user authentication, the

Standalone E-mail Robot

service may not start since no user is logged in. By defining a second database connection for the very same database, but using SQL Server user authentication, you can have the service authenticate that way while VSys One desktop application users are domain authenticated.