Jobs/Slots Calendar Tool - Advanced
Like the Jobs/slots calendar tool, the advanced variant gives you a visual look into your job slots and assignments. This one has a very different look to it:
Instead of seeing all openings and assignments that start at the same time next to one another, they show one after another. This makes it much easier to see large numbers of things happening at the same time.
An unlimited number of slots and assignments can be seen by scrolling up and down on the page.
Drag and drop of slots onto dates, and assignments onto slots and other slots works like before, but...
...no drag & drop of slots and assignments from one place to another, or visually manipulating a slot or assignment by stretching it.
Two display modes: Monthly and Weekly.
The link saves what's on your screen as an HTML file; you can then use your favorite browser to print it. (Because everything on your screen is HTML, VSys itself can't do a good job of printing, but your browser can!)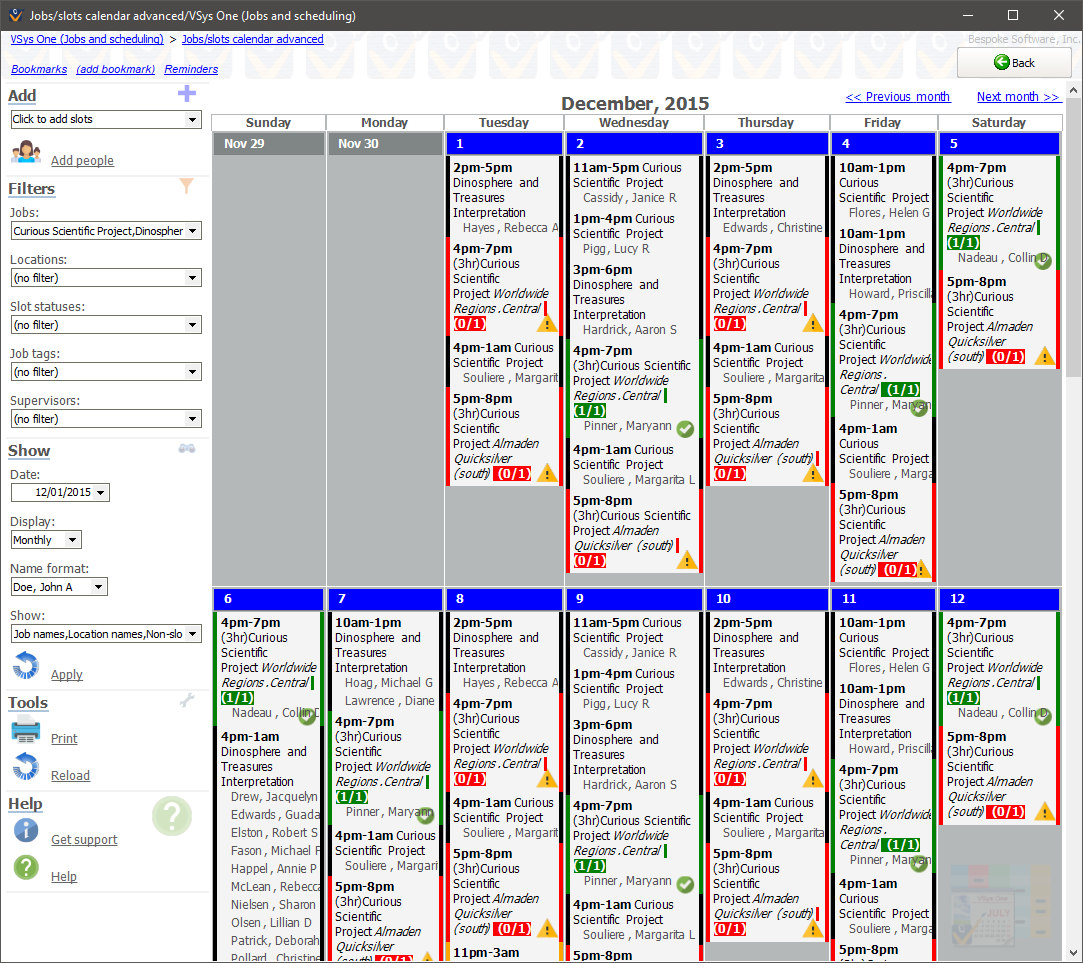 Hold your mouse over a slot or assignment to see popup details.
Click on anything to edit it.
Right-click on anything to bring up options for manipulating it.
Changes are not committed until you click the Save button (upper-right corner) or the link (lower-left corner).
Filters
Use the Jobs, Locations, Slot statuses, Job tags and Supervisors fields to filter what slots and assignments you see here.
Show
Change the

Date

to move from one date to another. Note that VSys will show either whole weeks or whole months depending on which

Display

you've set.

Display

changes whether you see a month or a week at time. (If you've chosen Monthly, within

Show

there's the checkbox

Slots/assignments from other months

. Check that and in the example above you'll see slots and assignments for the 29th and 30th of November, even though they're not in the current month.)

Name format

sets how the names of volunteers are displayed.

Show

offers a number of checkboxes:


Job names

,

Location names

let you show or hide these aspects of each slot/assignment.


Non-slot assignments

: If checked, as in the example above, assignments not linked to job slots are shown.


Volunteers in slots

shows or hides the volunteers within each job slot.


Slots/assignments from other months

: see

Display

above.
Changes you make to settings here don't always take effect immediately: click on the link to re-display the calendar with your new settings.
Use bookmarks to save your view and filter settings here for next time.