Bookmarks
"Bookmarks" in VSys let you tag individual screens for quick access later. They work much like bookmarks do in your web browser, yet in some ways are more powerful. Enable bookmarks on the Feature enabling panel in System preferences and feature enabling by checking Navigation bookmarks. After restarting VSys, you'll see a link in the upper-left corner of VSys One.



You'll also find that the current navigation "breadcrumb" is now a hyperlink. When bookmarks aren't enabled it's not. Clicking on the link will bring up a searchable window of your book marks.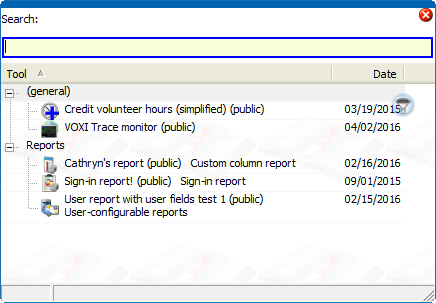 How to use bookmarks
| | |
| --- | --- |
| Task | Steps |
| Create a new bookmark | Click on the current screen's link, in the above example, "". Click on thelink to create the bookmark and save it. |
| Use a bookmark | Click on the link. A list of your bookmarks - if any - will drop down. Click on any bookmark to (use) it. |
| Manage your bookmarks | Click on the link. Click on any bookmark to or it. |
Creating a new bookmark brings up a window for you name and categorize it.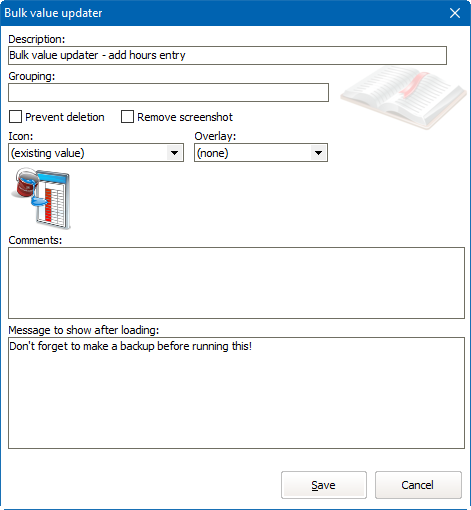 Bookmark properties
| | |
| --- | --- |
| Description | Any description useful to you. |
| Grouping | Type in any value here, this defines how VSys groups (nests) bookmarks together. |
| Public | If security is enabled, makes this bookmark visible to all VSys users. |
| Prevent deletion | If this box is checked, you can't delete this bookmark by right-clicking on it. Instead you'd need to edit the bookmark to un-check this first. |
| Remove screenshot | If VSys included a screenshot when the bookmark was created, check this box and save the bookmark to remove that screenshot. (You'll want to do that if the screenshot included any personal or secured data.) |
| Icon | Optionally select an image to be associated with the bookmark. |
| Overlay | The Icon (above) will be overlayed with this image to produce the final icon. |
| Comments | |
| Message to show after loading | After you open a bookmark, VSys will display this message on-screen. Use this for writing instructions/notes to yourself for future use. |
Notes about bookmarks
Some bookmarks can only be used from the

VSys One home

screen, for example "System preferences". Using a bookmark for that tool from any other screen will result in VSys trying to return to the main screen first; VSys will always prompt you to save any un-saved data before closing a screen.
Not all screens can be bookmarked. For example while a person's profile can be bookmarked, a certification within that profile cannot be.
Without VSys Security, all bookmarks are public, and changes to a bookmark affect everyone.
If VSys Security is enabled, a user sees only her own bookmarks unless marked

Public

.
With VSys Security, even if a user has access to a bookmark, she can't actually use that bookmark if she doesn't have rights to the underlying tool or person. Trying to use it without appropriate permissions will result in VSys showing an error message.
Bookmarks with settings
Some bookmarks include more than just a link to a tool: they include the settings used when the bookmark was created. Examples of tools that make and use bookmarks like this:
Person lookup

tool
Awards, Certifications, Eligibility/intake checklists, Interviews, Job associations and Trainings bulk creation tools
Applications, Assignments and Hours approval tools
Reports (all types)
Who's signed in and Who's missing tools
Awards, Interviews, Letters, Mandates, Memberships, Reference checks and Training manager tools
When you create a bookmark with these or other tools that support it, the bookmark itself contains the settings that you had on-screen at the time. Re-opening the bookmark loads those settings back again. This makes it easy to have VSys remember your settings for these tools.
Clicking on the breadcrumb for a tool like this brings up a special menu like this:



From here you can open other existing saved settings, replace the current settings, add a new bookmark or delete the current one.