VSys Anywhere Reports Queue
When a VSys Anywhere user submits a request for a report, that request is put into a queue. From here the reports should be processed by a scheduled task. To see the status of reports that have been queued, use the tool link on the VSys Live panel.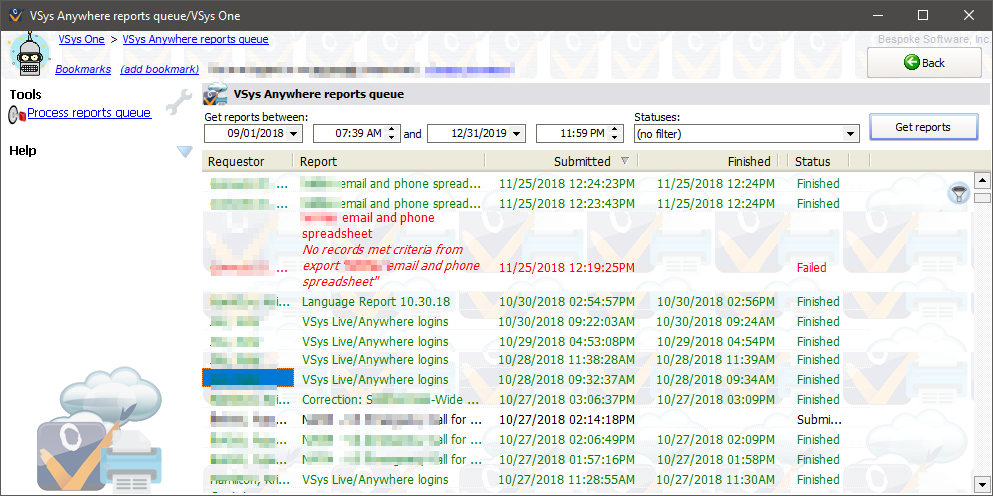 Set your date/time filters and Statuses, then click on Get reports to see a list of all reports in the queue that meet your criteria.
Clicking on will - right here - cause VSys to process (run) all queued reports with a status of "Submitted".
On the right-click menu
Right-click on a report to work with it or the volunteer associated with it.
| | |
| --- | --- |
| | Updates the status of the report to or . |
| | Runs this single report. |
| | Only available if the report has finished, lets you open and view the report's results. |
| | Shows the detailed logs on how, when, where VSys processed and ran this report, |
| | Only for mail merges, shows the letters generated by that merge. This can be used to release the letters for delivery or delete them. |
| | Copies the URL of the equivalent of the "My reports" link to the clipboard. That URL can be used by any logged-in VSys Anywhere user to re-run the report; any re-running is subject to the that user's security permissions. |
| | Deletes the report. |
Generated letters


Before performing any action on a report here, VSys checks to ensure that the report hasn't been changed or deleted by another user or by a scheduled task. If the report has been changed, VSys will not let you work with it until you click Get reports again to re-load it.