Who's Missing
This tool shows you volunteers who are scheduled for an assignment but who have not yet checked in. From the Kiosk or VSys Live panels, select .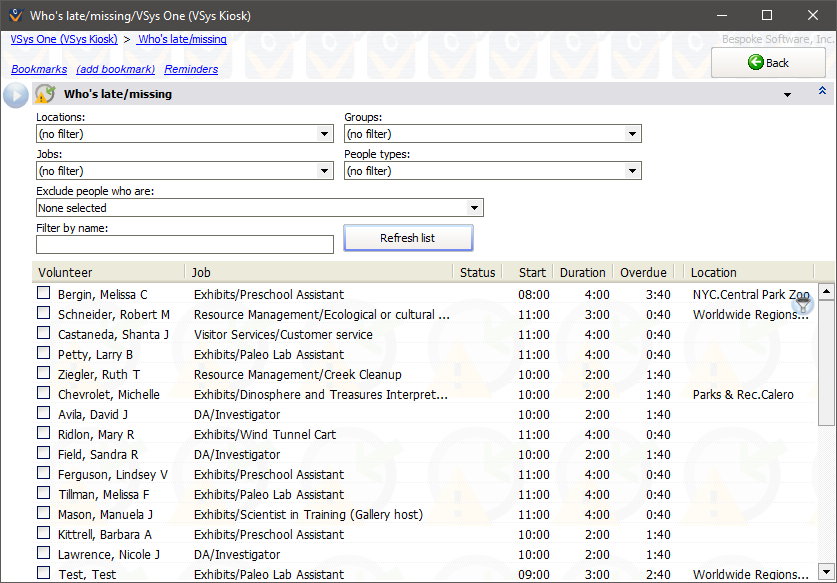 Filters (at the top)
| | |
| --- | --- |
| Project | Filter by people missing from a specific project. Select to get volunteers not registered in a project. (This filter may not appear if there are no volunteers with assignments in projects in the past two days or if projects are not enabled.) |
| Locations | Filter by the assignment's location. |
| Groups | Filter by the volunteer's groups. |
| Jobs | Filter by the job associated with the assignment. |
| People types | Filter by the volunteer's types. |
| Filter by name | Find a specific person by name. |
On the right-click menu
Right-click on a person on the list to work with that person or perform other actions.
| | |
| --- | --- |
| | Opens this volunteer in read-only mode. |
| | Edits this volunteer using the Profile editor. |
| | Shows a list of available letter templates. Choosing one merges this volunteer with that letter and shows the results. |
| | Shows a set of lists the volunteer is not on. Selecting a list adds the volunteer to that list. |
| | Shows a set of lists the volunteer is on. Selecting a list removes the volunteer from that list. |

Options to check , , or the checkboxes on all shown volunteers.

| | |
| --- | --- |
| | Shows a list of available letter templates. Choosing one merges all selected volunteers with that letter and shows the results. |