Address, phone, e-mail
We can search for people by address, postal/zip code, phone, or e-mail by clicking on the link on the left navigation bar.
Entering a phone number or e-mail address will find people who have a phone number or e-mail address beginning with the text you enter. You'll need to type in at least five characters for the search to work.
Putting in a

Postal code

(zip code in the US) brings up all people with an address in or within the given distance of the center of that postal code. Adding a state/province when searching that way will restrict the people to that state - great if you are in a location near the border of another state/province.

State/province

will bring up all people in that state. Combined optionally with

City/town,

it will bring up only those in the given city in that state. Note that

City/town

cannot be used by itself -

State/province

must be entered if

City/town

is included.

Street name

brings up all people with that street name.

State/province

must be entered with

Street name

. (Omit the street type when entering a

Street name

, e.g. to search for someone on "123 Main Street" enter "Main" in this field.)
A person will be shown if he meets one or more of these criteria.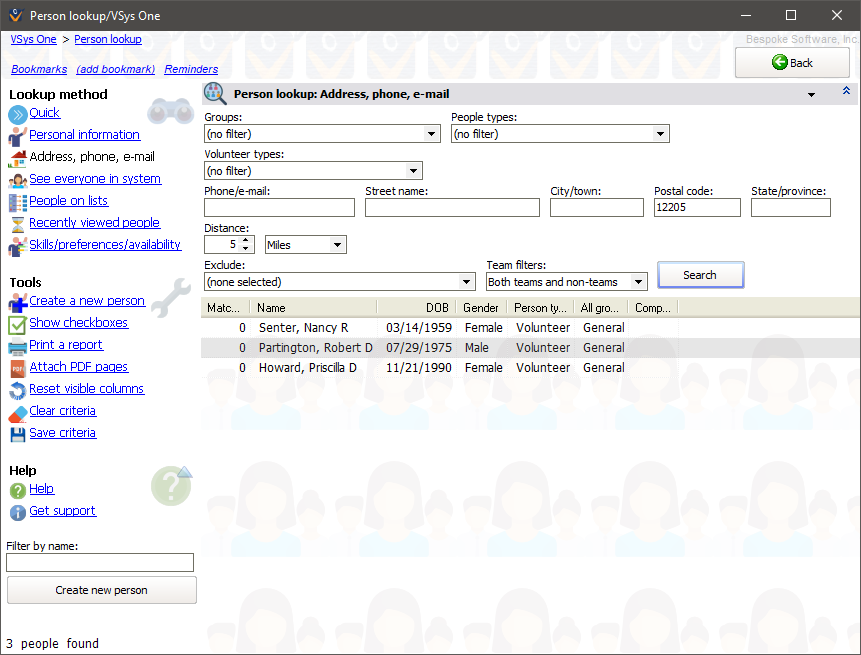 This search only works if your zips table is up-to-date. If you don't get the results you expected, ask your system administrator to go update the zips table through the Check for zip/postal code updatestool. This will let her download the latest US zip codes or Canadian postal codes database.
How does this work? VSys doesn't know the latitude/longitude coordinates of every address of every person, but it does know these values for most zip codes and postal codes. To determine how far someone is from a point, it uses the center of the person's postal code and compares it to the center of the postal code(s) that you enter. It's less accurate for large rural postal codes that cover a lot of area, and is more accurate for metropolitan areas.