Viewing Notifications
View your own notifications in one of three ways:
From the

VSys One home

screen, by clicking on "" from the

Notifications

section on the

Home

panel.
See anyone else's notifications by right-clicking on his name in the Security manager and selecting (you can also edit his subscriptions here).
From a listing of applications, assignments, training records, etc., right-click on that item and select .
Or from the Notifications subscriptions tool, right-click on a subscription to see notifications associated with that subscription or its subscriber.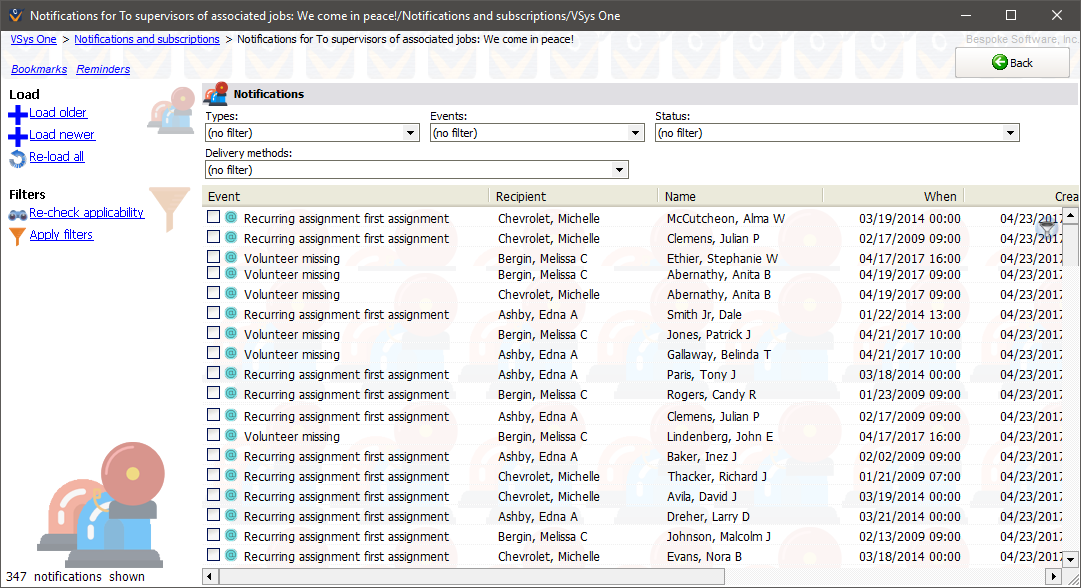 By default, VSys doesn't show older notifications here. Click on the link to display older ones. Clicking on checks the notifications to see if they've become obsolete, and any which are get crossed out.
Notice the icons next to each notification: the "@" symbol means it's to be delivered by e-mail, the little mobile phone is one to be sent by SMS, and the VSys dude is one that would be shown only within VSys itself.
Click on any non-obsolete notification and you'll usually get a popup menu which offers you places to go based on that notification. A pending training, for example, will offer to take you to the Training manager or to open the person's profile to the Training panel.
Once a notification is marked as read by right-clicking on it, even if it was set for delivery by other than in-VSys notifications, it won't be delivered anymore.