VSys Anywhere Site Setup
Because VSys Anywhere is based on VSys Live, it uses very similar pages. You still have template pages, regular pages, and placeholder pages. Pages then have menus, listings, blocks, etc.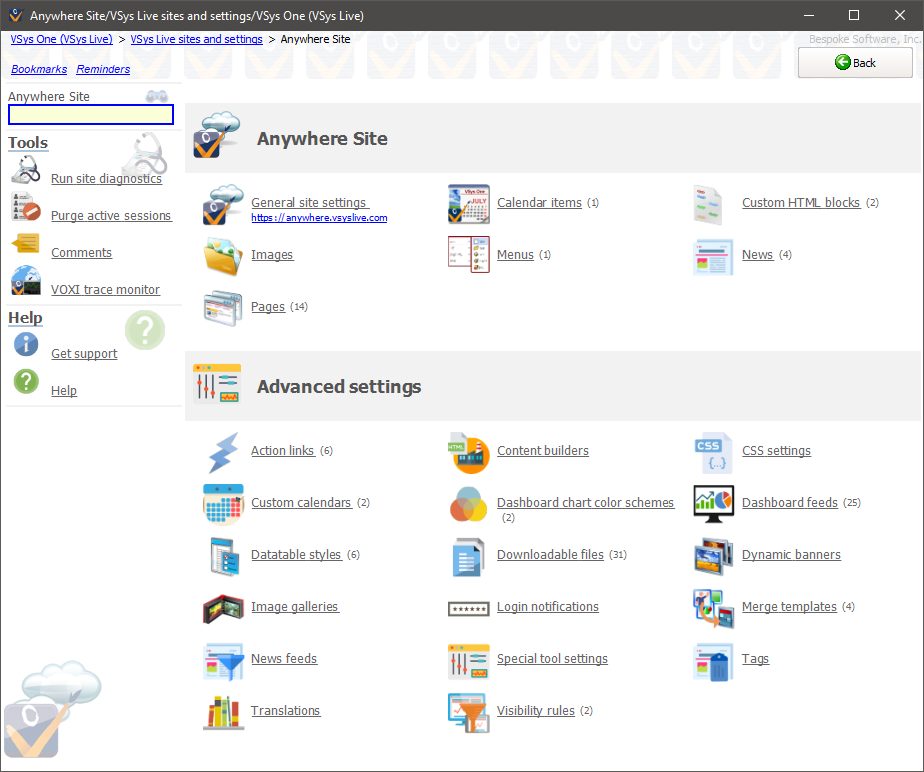 General site settings
| | |
| --- | --- |
| VSys Anywhere login page | Shown when no one is logged in. |
| VSys Anywhere home page | Shown as the default page when someone is logged in. |
| VSys Anywhere tool page | VSys Anywhere tools are shown in the Region to use for content region of this page. If a Region to use for instructions is set, any instructions associated with the tool will be shown in that region. The Page type for this page must be "VSys Anywhere page". |
On the VSys Anywhere e-mail page section,
| | |
| --- | --- |
| Mail sender name | E-mails sent directly by VSys Anywhere to its users (reports, etc.) will have this as the Sender. |
| Address | The e-mails above will come from this e-mail address. |
On the Other settings section,
| | |
| --- | --- |
| Default datatable style... | Ensure that these are set to use datatable styles; most VSys Anywhere tools will render poorly without a proper style here. |
| When processing VSys Anywhere mail merges... | Any mail merge via VSys Anywhere that creates more than this number of letters will be automatically cancelled without generating any letters. This is primarily a defense against users accidentally e-mailing your entire volunteer population. |
VSys Anywhere menu
The VSys Anywhere menu that users see combines two things: the page menu from VSys Live and the tools from their tool profile.
Action links
Most action links are irrelevant on a VSys Anywhere site: obviously job signup would not be a function in the administrative tools. You might find Password reset, Update password, Force password update when expired and View schedules useful, though.
A VSys Anywhere site must have been created as a VSys Anywhere site from its inception; you can't convert a VSys Live site into an Anywhere site.