Kiosk Token Items
Kiosk tokens are created manually and/or automatically, depending on how you've configured VSys. Using the link on the Kiosk panel you can work with and see the status of tokens.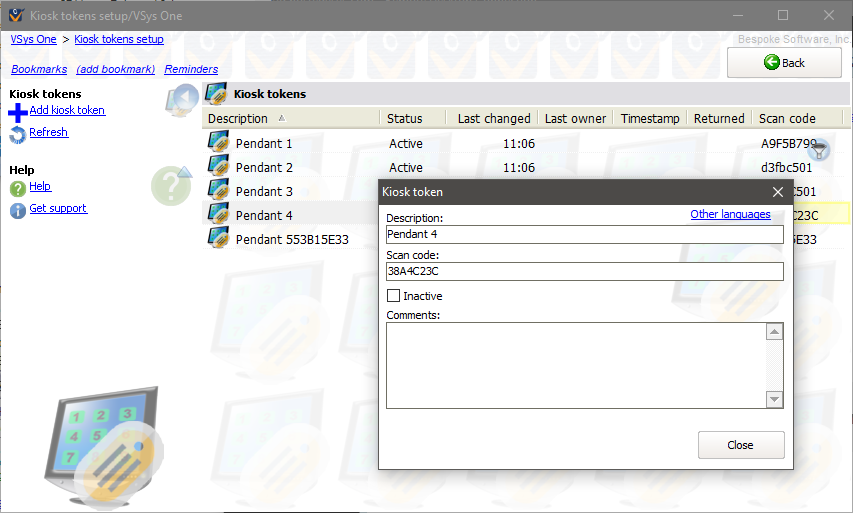 Use the link to add a new token, or (only available if no changes have been made here) to have VSys reload the list of tokens and their current statuses.
For each token you'll see:
| | |
| --- | --- |
| Last owner | The last volunteer who checked out this token, regardless of whether it was returned or not. |
| Timestamp | The last time this token was checked out. |
| Returned | Whether or not VSys registered the token as being returned. This is not an indication of whether the volunteer checked out or not. |
| Scan code | The code that VSys expects to see when this token is scanned or typed in at the kiosk. |
On the right-click menu
| | |
| --- | --- |
| | Creates a new token. |
| , | Opens the selected token for viewing or editing. |
| | Deletes this token. Deleting a token deletes all record of it including who has it now and who's had it in the past. |
| | View who has changed this token in the past. |
Tips:
Put barcodes on each token to make entering their codes quick and easy. Use the same barcode reader that you use for volunteer ID badges.
Each token's

Scan code

must be unique, and can only include a limited subset of keyboard characters.
Use the barcode scanner when setting up tokens, too, to scan in the token's code into the

Scan code

field.
If you rename tokens using the Token description field in kiosk setup, the terms used here in VSys and on the kiosk will vary.
Using an Inactive token at the kiosk will re-activate that token.