Sending By E-mail
The most common way of delivering letters is to first try to send them by e-mail to those who are eligible (have a valid e-mail address and have not indicated that they don't want to be e-mailed) and then follow up by printing the remaining letters to send in the mail. To do this:
Do your mail merge, then save the letters without printing them, leaving their

Status

as Pending.
Use the E-mail Robot to select the letters you just merged and send them. Only letters associated with people who have valid e-mail addresses will be considered. After sending the e-mails, VSys will mark their

Status

as "Sent". (If the Standalone E-mail Robot is running, it will automatically handle delivering any messages that it can if their

Method

is set to "E-mail" or "Any mail".)
Use the Letter manager to select the letters you merged but exclude those which are already marked as "Sent". Print these remaining letters and their labels as appropriate. (If the Standalone E-mail Robot is handling your delivery, wait until it's done sending your messages first before trying to print the letters.)
If you print letters immediately after e-mailing, you may want to follow up a week later, repeating the final step. By this point, any e-mails which were sent but not deliverable have probably been handled (and marked as "Pending" by VSys), and you can mail printed letters to those people who did not receive their e-mails.
Immediate sending by e-mail
From the merge results screen, you may be able to use SMTP or the MAPI E-mail Robot to immediately send one or more letters via e-mail. On the left navigation bar, look for the section . If present, you can click on SMTP or on the name of your e-mail program, likely .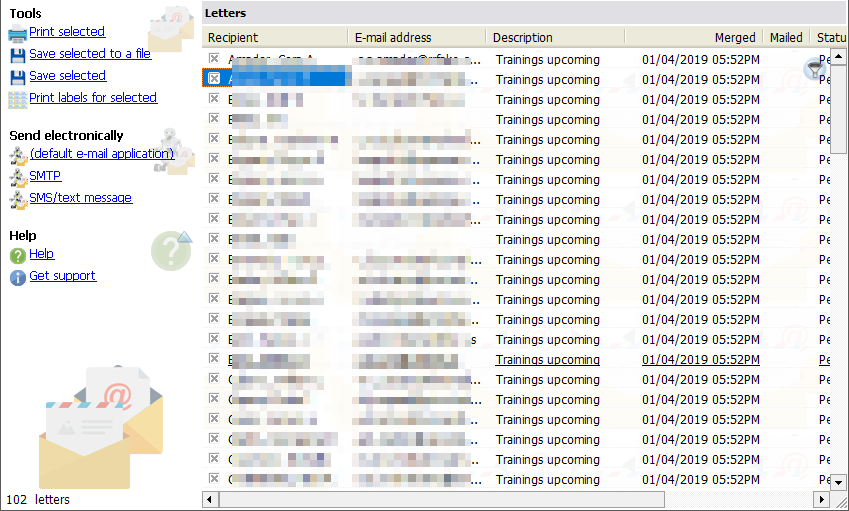 If this option is available to you, you can e-mail the ones with a valid e-mail address and print the remaining ones from the same screen.
First send the ones you can electronically. Their status will change from "Pending" to "Sent".
Click on the column header for Pending" letters together.
, to sort all the remaining "
Select the ones with the status of "Pending". (Remember you can right-click, then to check these all at once.)
Then print these remaining letters, with or without mailing labels.
Your e-mail application will only appear as an option here if you've checked MAPI E-mail Robot to send messages via Outlook in the System preferences and feature enabling tool tool under Feature enabling.
Sending these letters via SMTP will not be available here if the Standalone E-mail Robot is running. That's important: if it's running, just save the letters here with a Status of "Pending" with the Save button at the top, and the Standalone E-mail Robot will handle delivery for you.
To change the delivery schedule of these letters via the Standalone E-mail Robot, you can right-click on this list, , , . From there set the release date of the first letter and the number of minutes between letters. This lets you, for example, merge letters before their intended delivery date as well as optionally space out letter delivery so that they don't all get delivered at the same time or in quick succession.