User-configurable Report Details
Each user-configurable report has a common set of options.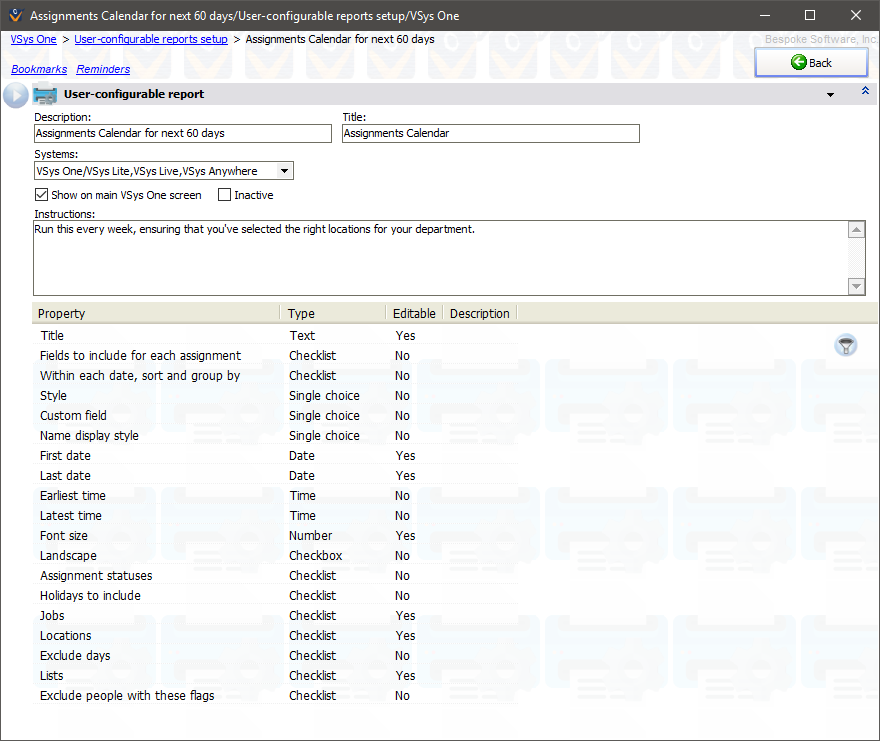 | | |
| --- | --- |
| Field | Description |
| Description | This is the description of the report as it will be displayed to your users. |
| Report groupings | Zero or more groupings for this report, the groupings define how users get rights to the report. |
| Title | When the report is printed, this title will override the title saved with the report itself. |
| Show on main VSys One screen | If checked, this report will show on the User-configurable reports panel on the main VSys One screen. |
| Inactive | An inactive report will not be available to your users. |
| Instructions | These instructions will show on the left side of the report tool when it's shown to your users. |
| Properties | (see below) |
Properties
Properties are the most powerful part of user-configurable reports: they let you decide which aspects of the report can be edited when the report is run by your users. A field marked Yes in the Editable column will be seen by the user, others will not. Right-click on any of these properties to:
, to use a different term than the one defined by VSys
, to limit the values available to users
/.
Example
This is how your user will see this report. Note that:
Her options are limited to the ones you chose in the setup
If this was an advanced/custom report she would not have access to the Report Designer
The instructions you entered above are shown on the left navigation bar.