Define incoming message types by clicking on the link on the Setup panel.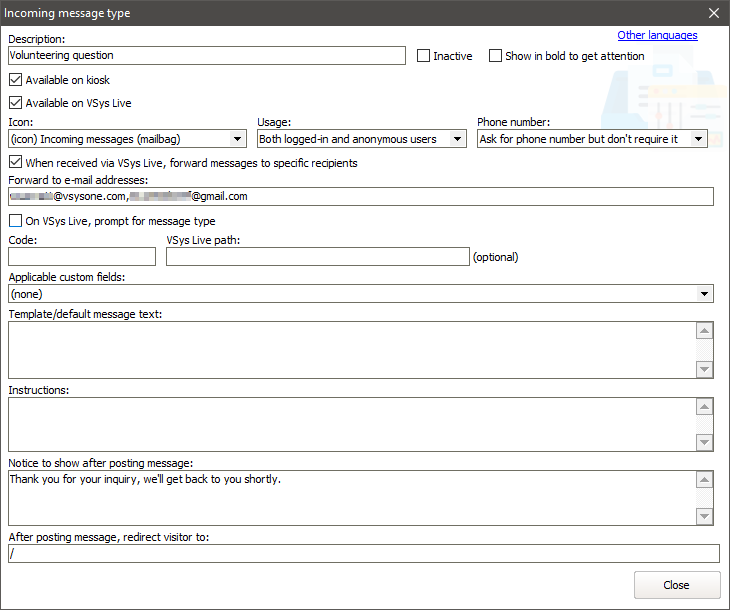 Click on to define a new type. For each message type, define where it's allowed to be used by checking the appropriate boxes. Your options here will vary depending on what features are enabled in VSys: kiosk, VSys Web, or VSys Live. Right-click on a type to or it.
Description

For your use, and also shown in VSys Live if On VSys Live, prompt for message type is checked for any other incoming message type.

Show in bold to get attention

If checked, highlights this message in the Incoming Messages Manager.

Available on kiosk

Checking this allows it to be used on the regular VSys Kiosk.

Available on VSys Live

Allows this message type to be used in VSys Live.

Icon

If one is selected, it will be shown in VSys Live at the top of the page.

Usage

Under what conditions can this message type be used: Both logged-in and anonymous users, Only anonymous users or Only logged-in users.

Phone number

Should VSys Live ask for the sender's phone number? Ask for phone number but don't require it, Don't ask for phone number, or Require phone number. If a logged-in user is sending a message, this is ignored and VSys will not prompt for phone number regardless of the setting here.

When received via VSys Live, forward messages to specific recipients

Check this to have VSys Live immediately forward the message to one or more e-mail addresses. Note that using this can expose those e-mail addresses to the original sender if the forwarded e-mails bounce.

On VSys Live, prompt for message type

If checked, VSys Live will prompt the user for the actual type of message. Use this, for example, to have a single "Send a message" page that asks the person what the purpose of their message is.

Code

When VSys Live shows a "Send a message" page, it will use this code (if present) instead of the message type's underling 16 digit code in the page's URL.

VSys Live path

Use this to create a "special" path in VSys Live to send a message of this type, for example
/messages/volunteerquestion

Applicable custom fields

If any custom fields have been created that are applicable to incoming messages, checking one or more of them here will tell VSys Live to ask for values for those fields when someone sends a message.

Required custom fields

For custom fields checked above, selecting them here makes those fields required.

Template/default message text

When sending a message of this type using VSys Live, what would normally be shown as a blank Subject field will instead show with the text here. Use this to provide a template or suggested content.

Instructions

If present, any instructions here will be shown at the top of the VSys Live page.

Notice to show after posting message

After someone sends a message using VSys Live, they'll be shown this message (if present).

After posting message, redirect visitor to

After someone sends a message using VSys Live, they'll be redirected to the website or page here.