Standard and Temporary Lists
Standard and temporary lists have on them only the people that you add, either individually or in bulk. The only differences between standard and temporary lists are that temporary lists will be deleted from VSys when you exit the program, and are only available to the current user. If you expect to use it after today, make it a standard list.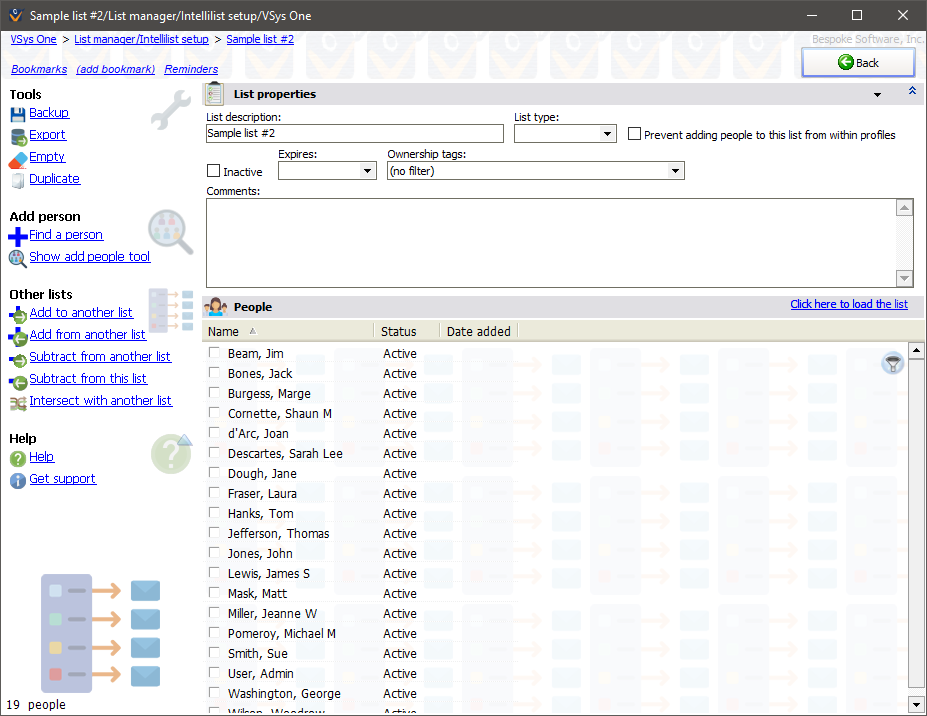 | | |
| --- | --- |
| List description | |
| List type | Used to group lists together. |
| Prevent adding people... | If checked, the Lists field in the profile editor will not allow someone to be added to this list who is not already on the list. |
| Inactive | An inactive list is grouped separately from others and hidden in many cases where it's not useful. |
| Hide in filters, too | An inactive list with this checked will be unavailable in filters and checklists in VSys. |
| Expires | Gives the list a "not useful after" date; after that date the list is effectively inactive and not shown in many places. |
| Ownership tags | Used to track who "owns" this list, especially in VSys Anywhere. |
Adding People to Lists
To add people to lists:
From the

Person lookup

tool or from most lists of people, right-click on a person and select , then select the list.
From a list of people, click the link. Then check one or more people, right-click on the list and select and then . This will add all of the checked people to the list at once.
While editing a list, use the tool to selectively find people based on any number of criteria. You can then click and drag people individually or in bulk onto the list.
The same tools used for adding people to a list work for removing them, just look for the and menu options.