Bad E-mail Handler
The Bad e-mail handler is designed to handle e-mails returned as undeliverable ("bounced"). An e-mail may be returned because the recipient is unknown or due to technical issues with mail servers.
For each returned e-mail, paste the e-mail address or the full body of the e-mail into the editor, then click on the Find e-mail button. If VSys was able to find the sent e-mail, it will bring it up and give you a set of options. Check all that are appropriate, then click on Post changes. The options you selected will be applied to the recipient and/or letter as appropriate.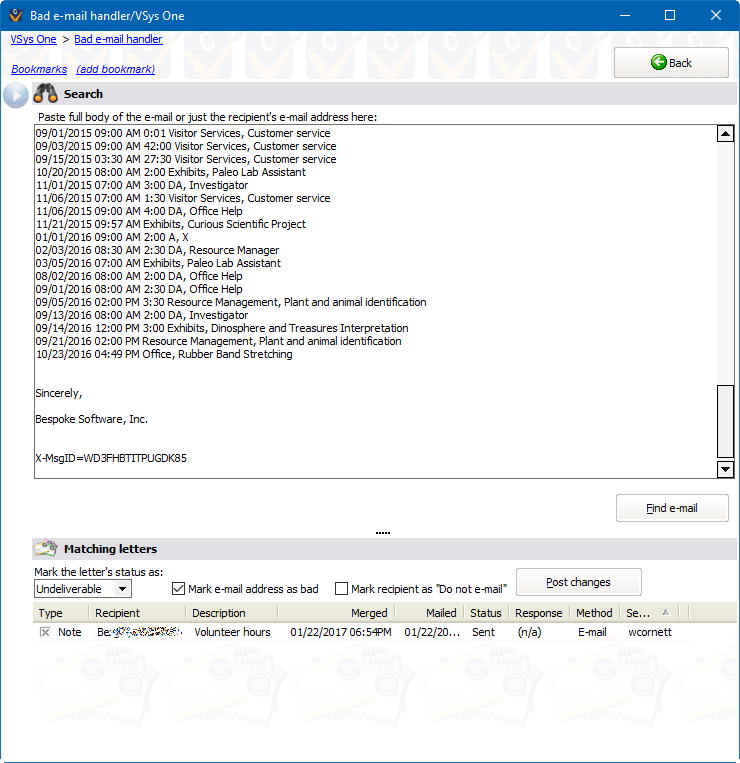 | | |
| --- | --- |
| | Indicates for the recipient that this is not a valid e-mail address. That address won't be used in future mailings and will show up in red in the person's address record. |
| | Check this if the e-mail address was valid but the recipient does not want to receive e-mails any more. |
| | Sets the status of the letter to the value you choose here: Pending, Cancelled or Undeliverable. |
You can right-click on the individual letters under Matching letters to perform actions specific to those letters, including editing the recipient.
You can just type in an e-mail address under Search to see all recent letters sent to that address. Since this brings up all recent letters, you can see the status. If the last several letters are marked as Undeliverable, then maybe it is time to mark the address as bad. You can also search for letters with a status of Undeliverable in the Letter manager and then sort by the recipient to see the big picture of what has not been delivered.