Sample Template Page
Let's start out with an example template page. As a template we're only using two regions:
Below header title:
Welcome back block: a custom HTML block that says "Welcome back" to visitors who are signed in.
Sign In: a built-in block that's only visible to visitors who are not signed in.
Credits:
Up!: a custom HTML block with just a link to scroll to the top of the page.
Copyright footer: a custom HTML block that contains VSys One/VSys Live copyright information and links; you'll want to edit or remove this before deploying your site.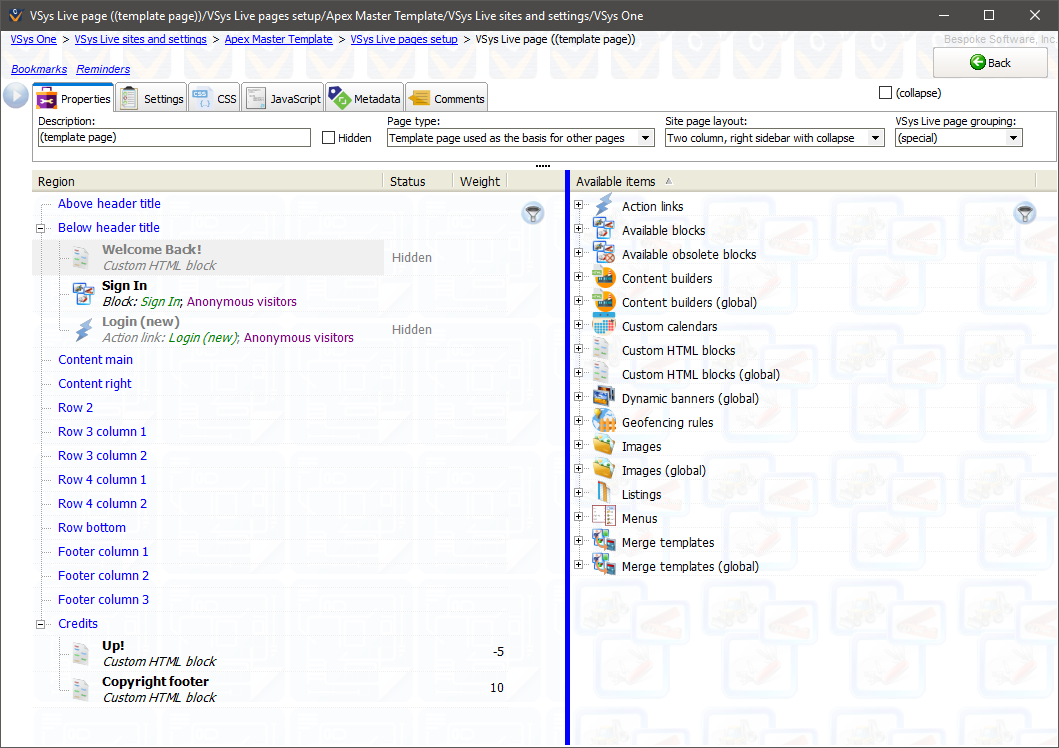 By itself this would be a pretty boring and mostly useless page, but when used as the template for a real page, it gives us the basics and makes it easy to change those basics later on without having to go into each and every individual page to do so.
The important aspects of this page are:
| | |
| --- | --- |
| Page type | Template page used as the basis of other pages. This tells VSys that other pages will use this one as a template. |
| Site page layout | Any of the layouts defined in the site definition. |
| Use settings from another template page | If this field is visible, you can tell VSys to look to some other template page (and only a template page!) for all of the values on the Settings page. Very handy if you have more than one template page and want them to share most of the same settings. |