Adding, Editing and Printing Comments
Adding comments
Click the link on the left side panel to open the Comment window.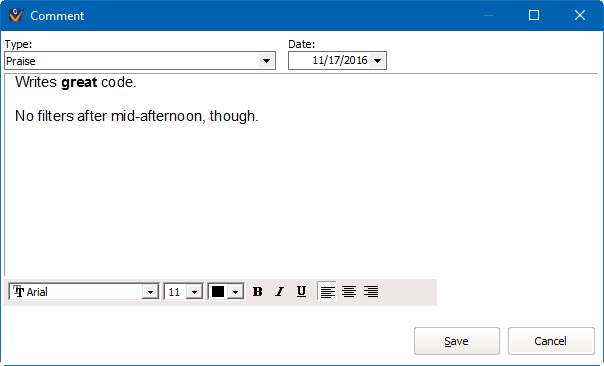 Enter a comment for the person and click the Save button on the Comment window.
Editing a comment
Click on the comment to bring it up for editing or right-click on it and select .
Use the Enable formatted (RTF) comments option in , under Advanced to add text formatting to your comments.
Deleting a comment
Right-click on the comment and select to delete the comment and its associated image, if any. Note the comment does not get deleted until you click the Save button. You can right-click on the comment again and select to undo this action before saving
Adding an Image from a File
Click the link and the

Open

window opens, which lets you browse to the image you want to open.

Find the image you want to attach, select it, and then click on the Open button.
Enter your comments about this image (optional) and click the Save button.
After adding any other comments and images, click the Save button at the top of the screen to save your changes and return to the previous screen.
Adding an Image from a PDF file
To add an image from a PDF click the link, and then browse to the PDF file with the image. Selecting the file will bring up the options of images to import. There must be an image in the PDF file for this to work. Note that VSys can't read all images from all PDF files. This tool is intended to help when using scanners which produce PDF files instead of JPEG or other image files.
Adding an Image from a Scanner or Camera
Click the link and the window that opens will be specific to your scanner. Refer to the documentation that comes with your specific scanner for further instructions.
Selecting a Scanner/Camera
Click the link and the

Select Source

window opens, allowing you to select the scanner or camera device to be used when scanning images.
Click the device you want then click the Select button.
The images you add must be in JPEG or PNG formats only.
Print
Use the checkboxes at the front of the comments to select a comment to print. Choose which aspects of the comment from the menu (, , or ).
Print all
Choose to print all comments for a volunteer, not just the ones you have selected.