Volunteer Request Application details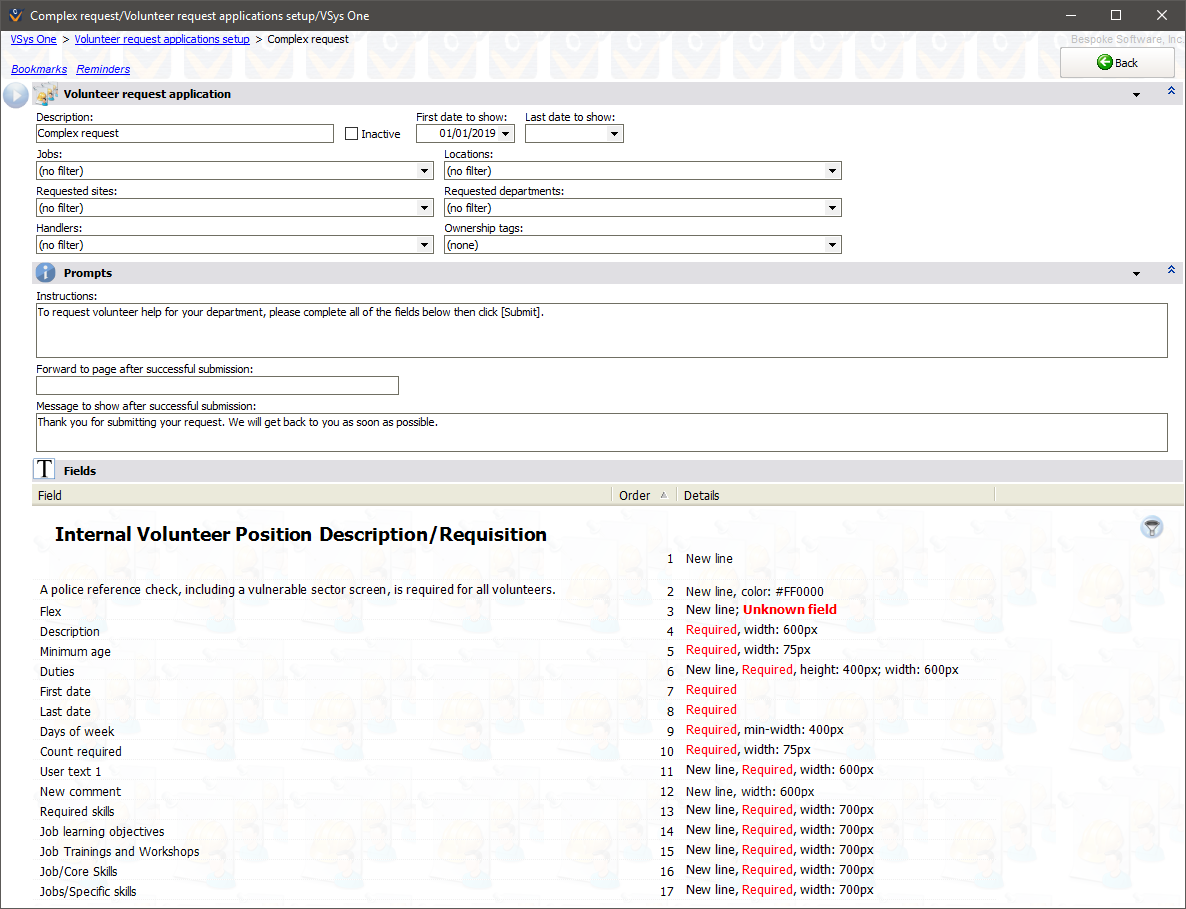 General properties
| | |
| --- | --- |
| Description | Overall description of this request application; shown in VSys Live. |
| Inactive | An inactive volunteer request application is never shown online. |
| First date to show, Last date to show | Limits when this request application can be used online. |
| Jobs, Locations, Requested sites, Requested departments, Handlers, Ownership tags | If these fields are placed on the application, if you check one or more values here, the fields will be limited to only the values you check. |
Prompts
| | |
| --- | --- |
| Instructions | Shown at the top of the request application. |
| Forward to page after successful submission | If the requestor successfully submits the application, they will be redirected to this URL. |
| Message to show after successful submission | After submitting the request, this message will be shown. Note that if Forward to page... above sends the requestor to a page not on the same VSys Live site, no message is shown. |
Fields
Fields on the volunteer request application are shown to the requestor in VSys Live. They may be optional or required and can be shown in any order. When the request is submitted, these are shown to the administrator processing volunteer requests. If the request is accepted, the values in these fields become part of the job or slot(s).
Right-click in the Fields area to add fields to the application.
Job fields become properties of the job that's created if the request is accepted. They can be things like its

Description

,

Required skills

, or any other aspect of the job. Note as part of accepting a request, the VSys administrator can change some or all of these values, or create the job slot(s) as part of a pre-existing job.
Slot fields become part of the created job slot(s). For example the

Location

,

Count required

,

Start time

, and custom fields are used to create the slots themselves.
Volunteer request application fields are detailed below.
Labels are shown to the requestor and are useful for instructions.
| | |
| --- | --- |
| Description | Usually required, this is how the requestor describes their need to you. |
| First date, Last date | First and last dates for which volunteers are requested. These fields are required. |
| Days of week | During the dates above, what days of the week are these volunteers needed? |
| Start time, Duration, Count needed | For each day, when should the volunteer start, how long is she expected to work, and how many are needed at any given point in time. |
| Job group | Used to create a new job if necessary, also used to help the administrator assign the volunteers to the right department. |
| Location description | Where is the volunteer needed? (Free-form text field.) |
| New comment | Use this to allow the requestor to add an additional comment to the request. |
| Comment history | A read-only history of all comments associated with this request. |
| Application handler, Requested site, Requested department | Place these to allow the requestor to set the handler, site, etc. for the request. (You may or may not want them to use or see these fields, they're most commonly used by an administrator who is processing the request.) |
| Status | Read-only to the requestor. |
| Code | (not used) |
Right-click on existing fields to move them up or down, hide or delete them. These fields work very much like application fields in VSys Live.