File Upload Fields
A user field of type "File upload" gives the volunteer applicant a place to upload a file as part of that application. This may be a resume, scanned consent form, professional certification, or anything else.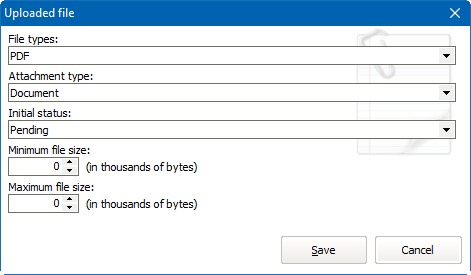 | | |
| --- | --- |
| File types | Types of files which are allowed here. VSys Live will reject any file that isn't one of these types. |
| Attachment type | This isn't the kind of file (PDF, Word, etc.) but how you classify the file. |
| Initial status | The uploaded file will get this status. You can use the Attachments Approval Manager to check and approve/reject files that volunteers have uploaded. |
| Minimum size | 100 here means that the file must be at least 100,000 bytes in size. |
| Maximum size | 2,000 here means that any file more than 2,000,000 bytes long will be rejected. |
VSys Live Only!