Handling Potential Matches
Hold your mouse over a suggested match to see the details about the person's information in VSys and the excluded person's information: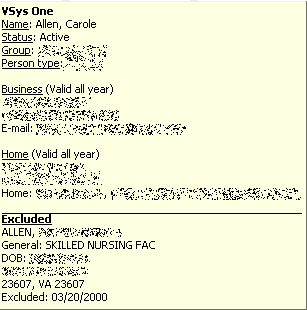 Right-click on the person to her or mark this match as:
(these are the same people and this volunteer should not be with your organization)
(not the same person)
(you're not sure).
Every time VSys checks a volunteer against the exclusions file, and every time you make an action to set the exclusion status, VSys logs that event in an "HHS Exclusions check" certification whose contents you cannot edit. You can use this archive as proof that you've checked each volunteer and of your actions in comparing them.