Memberships Manager
The memberships manager is a tool for selecting memberships based on a set of criteria and then editing, deleting, or mailing to those members. Use this to:
Enter new memberships or edit existing ones.
Change the status of multiple membership records at once.
Send letters to or print mailing labels for people based on their memberships.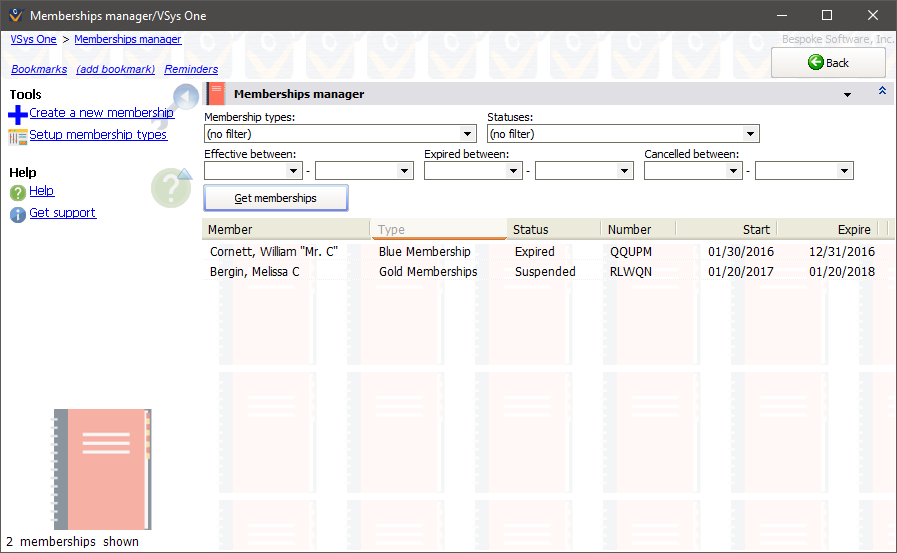 Tools
| | |
| --- | --- |
| | Creates a membership for a volunteer of one of the types you have defined. If this link is not working, check that you have at least one membership type set up. |
| | Takes you to the setup tool for membership types. This is the same tool available on the Setup panel. |
Filters
| | |
| --- | --- |
| Membership types | Types set up for your organization. |
| Statuses | Membership statuses - Expired, Active, Cancelled. |
| Effective between | Date range for when membership is valid. |
| Expired between | Date range for when the membership expired. |
| Cancelled between | Date range for when the membership was cancelled. |
On the right-click menu
Right-click on a membership in the list to modify that membership or perform other actions.
| | |
| --- | --- |
| | Creates a new membership of the type that you select. |
| | Edits the membership. |
| | Edits the owner of the membership. |
| | Deletes/un-deletes this membership. |